Thank you for allowing Frank to live in the hearts of so many who give.
A Proud Veteran of the U.S. Navy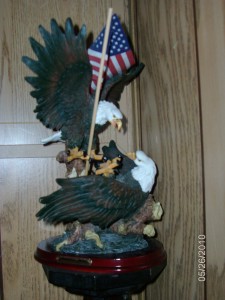 " THE OAK TREE"
A mighty wind blew night and day.  It stole the oak tree's leaves away, then snapped its boughs and pulled its bark until the oak was tired and stark.  But still the oak tree held its ground while other trees fell all around.  The weary wind gave up and spoke, "How can you still be standing, Oak?"  The oak tree said, "I know that you can break each branch of mine in two, carry every leaf away, shake my limbs, and make me sway.  But I have roots stretched in the earth, growing stronger since my birth.  You'll never touch them, for you see, they are the deepest part of me.  Until today, I wasn't sure of just how much I could endure.  But now I've found, with thanks to you, I'm stronger than I ever knew."
Until we meet again.
Frank Carlton Saunders
 DONATE VIA MAIL:  Make you check or money order payable to P & F Enterprises, Inc. and mail it POB 15144, Masarytown, FL 34604-0113
DONATE VIA PAYPAL:  Electronic Transfers from checking accounts or pay by credit card.  Click the Donate Button on the right to submit your gift in Frank Saunders name.